Shaker kitchens have become increasingly popular in recent years due to their timeless design and versatility.  The design dates back to the 18th century. Shaker kitchen doors are characterized by clean lines, simple yet elegant details, and functional design.
Features and Types of Shaker kitchen doors
Shaker cabinets feature a simple, rectangular design frame and recessed panel.  There are 2 main types of shaker doors available- Plain and Lined. To explain the difference between the two, you need understand the doors traditional 5 piece construction- 4 rectangular pieces that make up the frame (or "stiles"), and the centre panel.  Lined shaker doors make a feature of the "joints" in the frame, whereas Plain shaker doors conceal the joints. We have 28 different doors designs available, with various stile widths.
Different Stile Widths
Narrow frame shaker doors are characterized by slim stiles, while wide frame shaker doors have broader stiles that highlight the shaker style design. Narrow frame shaker doors are perfect for those who want a minimalist look, while wide frame shaker doors are ideal for those who want a more traditional feel. Often seen in Country Cottage and Farmhouse style kitchens.  We offer all designs in over 80 colours and finishes including natural wood, painted, matt, legno and even textured effects such as concrete.
Decorative Details
Additional decorative details available are beading and bevelling. Beaded shaker kitchens are popular choice for those who prefer a more detailed look. The beaded design adds a touch of elegance and sophistication. Bevelling adds a more subtle detail but has a contemporary look overall.
This style has stood the test of time and is now considered a classic look that will never go out of style. Shaker kitchen cabinets offer a minimalist look, making them a perfect choice for modern kitchens. Not only are they easy to clean and maintain but they're also durable and hardwearing.  It's no wonder they're such an increasingly popular choice here in the UK.
Read more
Read less
29 Smooth Matt Standard Painted Colours
Available in Colour Match
22mm Thick
40mm Deep Cavity J-Pull Handle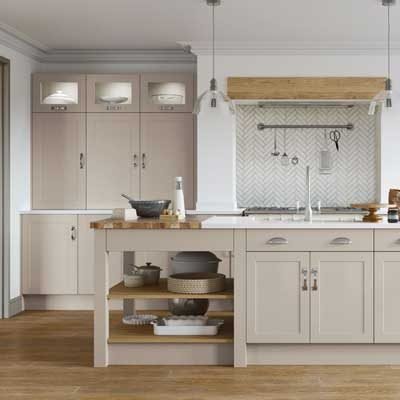 29 Smooth Matt Standard Painted Colours
Available in Colour Match
18mm Thick
60mm Stile Width
29 Smooth Matt Standard Painted Colours
Available in Colour Match
18mm Thick
90mm Stile Width
29 Smooth Matt Standard Painted Colours
Available in Colour Match
18mm Thick
Plain Slab Style Door
29 Smooth Matt Standard Painted Colours
Available in Colour Match
18mm Thick
Plain Slab Style, Embossed Woodgrain Effect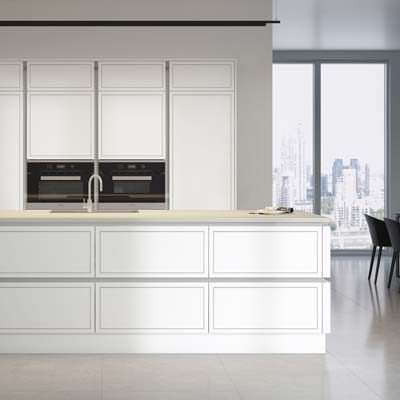 29 Smooth Matt Standard Painted Colours
Available in Colour Match
18mm Thick
28mm Grooved Frame Design Door