All Ultra-Modern Fitted Bedrooms
Transform your bedroom into a sanctuary of style and functionality with our Ultra-Modern Fitted Bedroom Furniture. Crafted with precision and designed with contemporary aesthetics in mind, this collection is the epitome of sophistication and practicality.
Design Excellence
Our ultra-modern fitted bedroom furniture is a testament to design excellence. Each piece is meticulously crafted to harmonize seamlessly with the modern bedroom, offering a clean, sleek, and minimalist look that elevates the overall ambiance of your space. With a focus on simplicity, our furniture pieces feature clean lines, ultra-gloss finishes, and innovative storage solutions.
Customization at Its Best
We understand that every bedroom is unique, and so are your needs and preferences. That's why our ultra-modern fitted furniture is fully customizable. Choose from an array of finishes, including bold black, pristine white, and chic metallic tones to match your bedroom's colour scheme. Select from a variety of sizes and configurations to maximize storage space without compromising on style. Whether you have a compact urban apartment or a spacious suburban home, our fitted furniture can be tailored to fit your space perfectly.
Premium Quality
Quality is at the heart of everything we do. Our ultra-modern fitted bedroom furniture is crafted from premium materials that are built to last. Each piece is constructed with precision and attention to detail, ensuring durability and longevity. You can trust that your investment in our furniture will stand the test of time, maintaining its beauty and functionality for years to come.
Storage Solutions
One of the standout features of our ultra-modern fitted bedroom furniture is its innovative storage solutions. We understand the importance of an organized bedroom, and our furniture is designed to meet your storage needs. From spacious wardrobes to hidden drawers and built-in shelving, our furniture provides ample space to stow away your belongings, keeping your bedroom clutter-free and tranquil.
Experience Luxury Every Day
Indulge in the luxury of a well-designed, ultra-modern bedroom with our fitted furniture collection. We take care of every detail, leaving you with a polished, magazine-worthy bedroom that exudes contemporary charm. Elevate your daily routine as you wake up to an environment that exudes sophistication and functionality.
Experience the perfect fusion of design, quality, and customization with our Ultra-Modern Fitted Bedroom Furniture. Transform your bedroom into a modern masterpiece and make every day a stylish, comfortable, and organized retreat. Browse our collection today and take the first step towards creating the bedroom of your dreams.
Read more
Read less
16 Ultra Gloss & Metallic Finishes
Acrylic Faced MDF
18mm Thick
Glass Effect Slab Style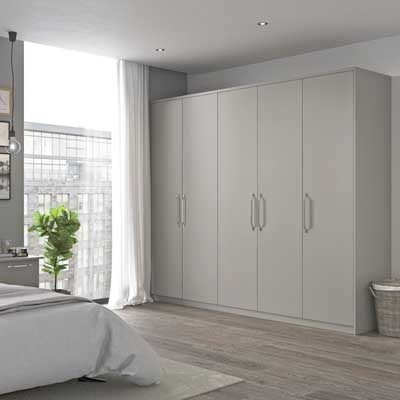 15 Serica Superior Matt Colours
Matching or Multiplex Edging Options
18mm Thick
Silky Smooth Soft Touch Finish Slab Style
9 Marble, Natural Stone Effects & Colours
Choice of Edging Options
18mm Thick
Perfect Sense Matt Finished Slab Style
36 Matt, Material & Gloss Colours Available
Embossed Textures and Tactile Finishes
18mm Thick
Slab Style
14 MFC Woodgrain Effect Colours
Embossed, Tactile Finishes
18mm Thick
Painted Legno Grain Embossed Slab Style