All Fitted Shaker Bedrooms
Experience the enduring charm and functionality of our Fitted Shaker Bedrooms.
Explore our range today and let us help you transform your bedroom into a space that radiates elegance and comfort. At One-to-One, we deliver expertly designed spaces that stand the test of time. Order your fitted Shaker bedroom furniture now and discover the perfect blend of form and function.
Timeless Shaker Design
The Shaker style has endured for centuries, known for its simplicity, clean lines, and understated beauty. Our Fitted Shaker Bedrooms embrace this classic design ethos, offering a sense of tranquility and comfort that's truly timeless. Designed around you, our furniture seamlessly combines traditional aesthetics with modern convenience.
Customization for Your Unique Space
At One-to-One, we understand that every bedroom is unique. That's why our Fitted Shaker Bedrooms are fully customizable to suit your space, taste, and storage needs. Choose from a wide array of finishes, including classic whites, warm wood tones, and vibrant colours, to create a bedroom that reflects your personal style.
Efficient Storage Solutions
A clutter-free bedroom promotes relaxation and peace of mind. Our fitted Shaker bedroom furniture is designed with clever storage solutions that maximize space and minimize mess. From spacious wardrobes with custom shelving to built-in bedside tables and dressers, our designs help you keep your space tidy while adding to its aesthetic appeal.
Functionality Meets Aesthetics
Our Bedrooms seamlessly blend functionality with aesthetics. The clean lines and elegant detailing of Shaker design harmonize effortlessly with modern amenities such as soft-close drawers and LED lighting. We believe that beauty should enhance practicality, not compromise it.
Invest in Your Sanctuary
Your bedroom is more than just a place to sleep – it's your personal sanctuary. With our Fitted Shaker Wardrobes and Bedroom furniture, you're not just buying furniture; you're investing in a space that inspires relaxation and rejuvenation. Whether you're seeking a serene escape or an organized haven, our Shaker bedrooms are designed around you.
Read more
Read less
60 Colours Available
Available in Matt, Serica & Legno
18mm Thick
110mm Stile Width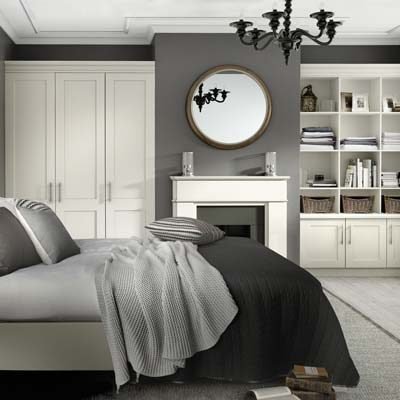 63 Colours Available
Available in Matt, Serica & Legno
18mm Thick
80mm Stile Width
63 Colours Available
Available in Matt, Serica & Legno
18mm Thick
100mm Stile Width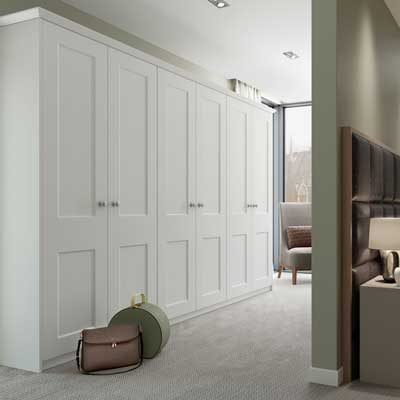 61 Colours Available
Available in Matt, Serica & Legno
18mm Thick
105mm Stile Width/Bevelled Detail
63 Colours Available
Available in Matt, Serica & Legno
18mm Thick
60mm Stile Width/Bevelled Detail
63 Colours Available
Available in Matt, Serica & Legno
18mm Thick
95mm Stile Width/Mock In-Frame
63 Colours Available
Available in Matt, Serica & Legno
18mm Thick
80mm Stile Width
62 Colours Available
Available in Matt, Serica & Legno
18mm Thick
100mm Stile Width/Beaded Detail
5 Piece & Painted Shaker Bedrooms
10 Legno Colours Available
5 Piece Construction
22mm Thick
105mm Stile Width
6 Microtexture Colours Available
5 Piece Construction
22mm Thick
75mm Stile Width
7 Legno Colours Available
5 Piece Construction
22mm Thick
84mm Stile Width/Beaded Detail